About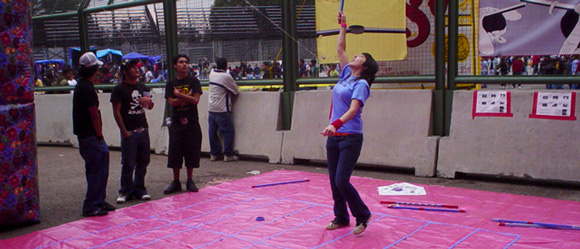 Kelly Coats Bio
Kelly Coats is an artist, musician and designer based in Los Angeles, California.
In her work, Coats often explores the visual tension between man made materials and natural elements. Through photography, collage, drawing and time based media, she captures moments in the life-span of objects. A water balloon as it is breaking and releasing; Michael Jackson's face as it morphs continuously spanning decades; wrapping paper after it has been crinkled — moments like these are scrutinized.

Coats received a BFA from Western Michigan University in 1998, and an MFA from the University of Cincinnati in 2002. In 2002, Coats cofounded the Mexico City-based art collective, Bordermates, which coordinated events in parking lots, cantinas (bars), restaurants, etc. With free music, drink and food, Bordermates created a relaxed environment where artists and visitors could observe and participate mutually. (bordermates.org)

In Mexico City, Coats was a member of the satirical, electro-caberet trio, Mi Grupo Favorito. Since her move to Los Angeles in 2005, Coats has collaborated with Matthew Lawton, Baseck and Crooked Cowboy & the Freshwater Indians. She plays flute in the jazz orchestra, LA Fog.

Kelly Coats CV
Education

2000-2002 M.F.A., Visual Arts, University of Cincinnati, Cincinnati, OH
1994-1998 B.F.A., Painting, Western Michigan University, Kalamazoo, MI

Selected Exhibitions/ Screenings/ Performances

2008
Under Alvarado: There is a Beach, Tiny Creatures goes to Mexicali, Mexicali Rose, Mexicali
The Case of the Stairs, perfomance with LA Fog & My Barbarian, LACMA, Los Angeles

2007
ah-peh-Jee-doh, Eagle Rock Center for the Arts, Los Angeles
Trademark, Galería 13, Mexico City
Positively Nasty: LTTR V, Performance with D'Argento, Susanne Vielmetter Projects, L.A.

2006
International Flip Book Festival, for Little Cakes at Reg Vardy Gallery, Sunderland, UK
Sábados-Ilusión, Rufi's Convenience Store and Tailor Shop, Buenos Aires
No Speed Bumps! No Seat Belts, ADM Project, Hollywood

2005
Epic Thriller, Rimjaus, Mexico City (solo)
Now Playing!, Screening, The Ritz Gallery, Newburgh, NY
Dinero, EXteresa Arte Actual, Mexico City
You & Me & ART&IDEA, ART&IDEA, Mexico City
Viaje Todo Pagado/ Kansas City Tropical, Grand Arts, Kansas City, MO

2004
Workspace & Windows, Bronco video screening, Jamaica Center for Arts and Learning, NY, NY
The Giant Margarita/Video-Taco Convention, Sundown Salon, Los Angeles
Annual Group Show, Garash Galería, Mexico City
Mi Grupo Favorito, performance, CANAIE Gallery, Mexico City
Museo de Historia Natural no. 3, with Álvaro Verduzco, Natural History Museum, Mexico City
¡Bling Bling!, Screening, Sabados #9, Pasaguero, Mexico City

2003
Stencils/Instant Coffee, As a Satellite, The America's Society, New York City
Imagineria Audiovisual de la Frontera, Multimedia Festival, Tijuana

2002
Render Games, with Renato Ornelas, La Panaderia, Mexico City
The End of the End, Downtown Galleries, University of Cincinnati, Cincinnati, OH (solo)
Posted and Delivered, Art Academy of Cincinnati, Cincinnati
Guest Mutt, Semantics Project Space, Cincinnati
Urban Disco Carts, Screening with Instant Coffee, Garash Galería, Mexico City

2001
Detachable Gravity, Gallery J, University of Cincinnati, Cincinnati, OH (solo)
Soft Show in the Instant Coffee Urban Disco Trailer-OASIS, Lian and Danny Taran Gallery, Montreal, Quebec

Awards & Grants

2005
International Fund for the Promotion of Culture, UNESCO (for Bordermates)

2004
Cultural Contact, Rockefeller Foundation / FONCA, US-Mexico Fund for Culture Grant (for Bordermates)

2001
Graduate Student Government Association Travel Award, University of Cincinnati
Wolfstein Travel Fellowship, University of Cincinnati

2000
Yates Scholarship, University of Cincinnati

1998
Angie Gayman-Carmer Scholarship, Western Michigan University

1997
WMU Foundations Grant, Western Michigan University
WMU Merit Award, Western Michigan University

Symposia

2005
Identity and collective processes, Museo Arte Carrillo Gil, Mexico City (discussant)
Collective Strategies, Escuela Nacional Autónoma de Artes Plásticas, Mexico City (discussant)

2004
Divergent Strategies, Universidad de las Americas, Puebla, Mexico (discussant)

Artist Residencies

2002
Mexico-US International Cultural Exchange Residency, Atlantic Center for the Arts,
New Smyrna Beach, FL
---